Youth Weekend Away Philadephia 2023
2023 is the Centenary Year of the RSCDS, and that means we will offer you not only one, but TWO opportunities to attend a Youth Weekend Away!
We are thrilled to collaborate with the
DelVal Branch
to welcome dancers under the age of 36 to our very first Weekend Away outside Europe!
Aside from enjoying Scottish Country Dancing in this beautiful and historic city with friends old and new, there's no shortage of awesome things to do in Philadelphia. From enjoying an authentic Philly cheesesteak, touring Independence Hall (where the Declaration of Independence was signed and where the U.S. Constitution was created), to visiting cultural masterpieces along the Ben Franklin Parkway, we are sure you'll have an absolutely amazing time with your fellow dancers in this incredible city.
Save the date for our Youth Weekend Away in Philadelphia in October 2023… we can't wait to see you there!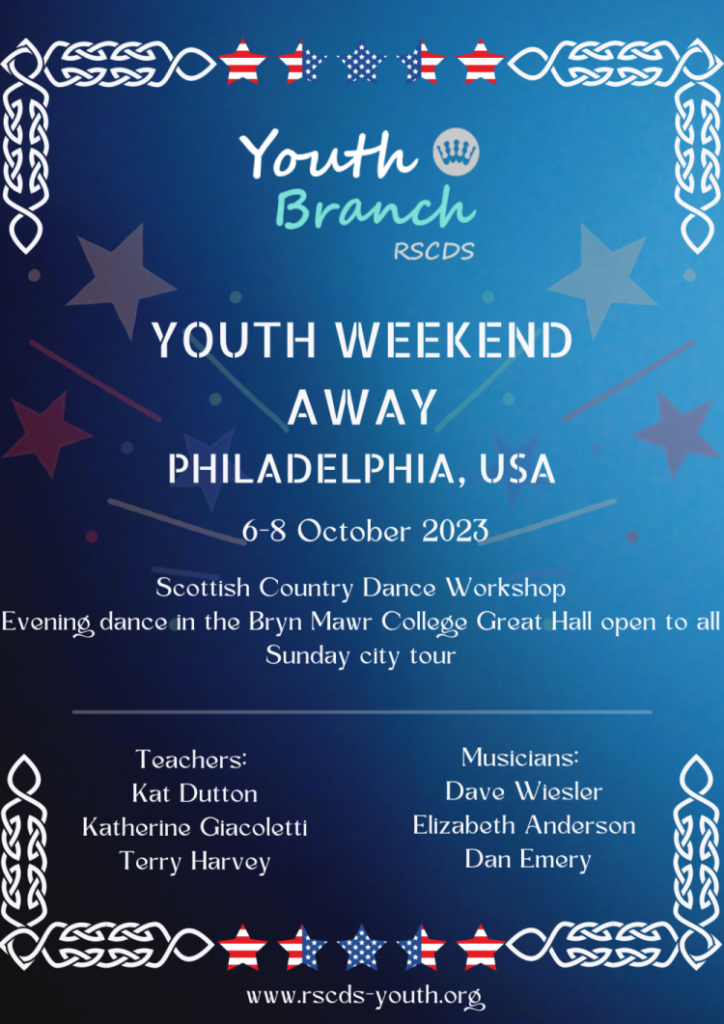 Friday: Welcome Party
Saturday: dance workshop + evening dance open to all
Sunday: city tour
£50 Full weekend (Friday Welcome Party + Saturday dance workshop + Saturday lunch + Saturday evening dance + Sunday city tour)
£20 Evening dance only
£20 T-shirt
*you must be logged in to register
Youth Weekend Away Stockholm 2023​
We are excited to announce that our next Youth Weekend Away will take place in Stockholm, Sweden!
Stockholm is home to three UNESCO World Heritage Sites, the fabulous ABBA museum, and of course a wide variety of delicious pastries!
Known for its rich and vibrant history, fascinating architecture, and an open and welcoming atmosphere, we are sure you'll love visiting this city and we can't wait to dance with you there!
We are thrilled to be collaborating with the RSCDS Stockholm Branch to bring you a weekend of fun, friendship, and lots of dancing (and cinnamon rolls)!
Save the Date!